The Alphabet Jungle Game
Talk

0
26,376pages on
this wiki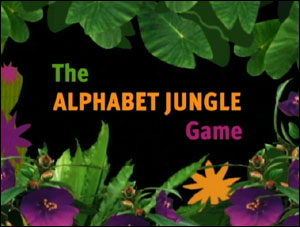 The Alphabet Jungle Game is a Sesame Street compilation video released in 1998. Telly, Zoe and Elmo host this direct-to-video release filled with dozens of classic Sesame Street cartoons.
The video is a companion piece to The Great Numbers Game.

Image
Segment
Description

Cartoon

"Alphabet Jungle"
(EKA: Episode 2879)

FRAME 1

Elmo, Zoe, Telly and three kids welcome the viewer to Alphabet Jungle, where cartoons of each letter hide. Zoe is anxious to see the letter Z, on account Z is her favorite letter, since her name starts with that letter, "Zoe". Elmo spots the letter A and the "Soul A" cartoon.

Cartoon

Soul A!
(EKA: Episode 3773)

Animation

Pencil Box B / b
(EKA: Episode 3040)
New sound effects added.

Cartoon

A fan reveals the letter C.
(EKA: Episode 2746)

Cartoon

A car drives by the water.
(EKA: Episode 3554)

Animation

D for Dance: Ladies on stage dance a can-can to the tune of "The Infernal Gallop" from Jacques Offenbach's Orpheus in the Underworld, the lyrics of which are all the letter D.
(EKA: Episode 3499)
Elmo is superimposed into the clip, dancing along, who also says "D" at the end.

Cartoon

A pencil tries to write the word DANCE.
(EKA: Episode 2226)
New sound effects added at the end of the cartoon.

Animation

E / e Gregorian chant
(EKA: Episode 3300)
Elmo appears over the segment, reiterating the letter and saying that "E" stands for "Elmo".

Cartoon

Suzie Kabloozie hates the letter F, until all F things disappear, including the furniture, the floor and the firefighter.
Artist: Mo Willems
(EKA: Episode 3480)

FRAME 2

Zoe walks in with a G sign, chanting the letter.

Cartoon

Fish form G and g.
(EKA: Episode 3112)

Cartoon

The letter H appears in words on buildings.
(EKA: Episode 3368)
New sound effects added.

Animation

Pencil box I/i
(EKA: Episode 3040)

FRAME 3

Telly and Zoe fight over the letters I and G; Elmo has them put them together to make the "IG" sound.

Cartoon

A pig dances a jig while wearing a wig.
Artist: Joey Ahlbum
(EKA: Episode 3525)
New sound effects added.

Animation

Planet J/j
(EKA: Episode 2849)

Film

Ornate Ks fly through the air to a song.
(EKA: Episode 3012)

FRAME 4

Zoe introduces her second favorite letter - "LMNO". However, Elmo points out that that letter is just four other letters: L, M, N and O.

Cartoon

L for Laugh
Artists: Vincent Cafarelli & Candy Kugel
(EKA: Episode 2874)
New music added.

Cartoon

M is for Marvelous Martha
(First: Episode 0013)
New sound effects added.

Cartoon

Leaves form N and n.
(EKA: Episode 3114)

Cartoon

A woman sings the "O" sound in a brief opera.
(EKA: Episode 3766)

FRAME 4 cont'd

Zoe now sees that they're all separate letters, then wonders what comes after O. The kids pop out and yell "P!"

Song

"Letter P Menu"
Artist: Veronika Soul
(EKA: Episode 3664)

FRAME 5

Telly shows the letter P stands for "push" as he pushes the segment away...taking himself with it.

Song

"Push!"
(EKA: Episode 3445)

Cartoon

Airplanes carve the letter Q.
Artist: Frank & Cauroline Mouris
(EKA: Episode 3286)

Animation

A capital and lower-case R appear on sheets of paper.
(EKA: Episode 3127)

Animation

Characters on a quilt form the letter S.
Artist: Karen Aqua
(EKA: Episode 3368)
Elmo and Zoe appear over the clip, dancing along.

Cartoon

T for tiger, teapot, television, and taxi.
Artist: Bill Davis
(EKA: Episode 3304)

Cartoon

U knocks on the door of P's apartment. When she answers the door, they go UP.
Artist: ArtistMike
(EKA: Episode 3705)

Cartoon

V in space
(EKA: Episode 0560)

Animation

W for water, wind, wave and wet
(EKA: Episode 3287)

FRAME 6

Elmo spots the letter X and exclaims "X marks the spot!"

Animation

Stamped and painted X animation.
(EKA: Episode 2934)

Film

Ornate Xs spin around in accompaniment to a song.
Artist: Jane Aaron
(EKA: Episode 3058)

Animation

Y: Yuri, a yellow yak, eats yams and yogurt.
(EKA: Episode 3522)

FRAME 7

Zoe is excited, because now it's time for a Z cartoon! But, Telly points out there's no Zs in the jungle! This upsets Zoe and she breaks out into a brief panic, but the kids tell her that she, Elmo, and Telly should do the next best thing: make their own Z. They do just that! In the style of The Floating Kids (complete with Maria narration), the monsters float into the sky and make the letter.

Song

"The African Animal Alphabet"
(EKA: Episode 3448)
The explorers appear over the segment, dancing and singing along replacing the animal crackers from the original version. A full credit roll follows.
Releases
Cast
Joseph Brancale
Megan Ng
Nichole Rifkin
Credits
Executive Producer: Nancy Kanter
Produced by Teri Weiss
Directed by Mary Perillo
Written by Mo Willems
Puppet Captain: Kevin Clash
Supervising Editor: Mary Perillo
Animators: Jane Aaron, Karen Aqua, Joey Ahlbum, Baboon Animation, Bruce Cayard, Bill Davis, Laura Di Trapani, Johan Edstrom, Fred Garbers, Al Jarnow, Ken Kimmelman, Klasky/Csupo Inc., Caroline & Frank Mouris, Mary Perillo, Cindy & Dewey Reid, Rose Rosely, John Schnall, Veronika Soul, Mo Willems, Julie Zammarchi
Composers & Lyricists: Kevin Bartlett, Alan Cagan, Chris Cerf, Sarah Durkee, Kenneth Field, Todd Herman, John Hilton, John Huckfeldt, Paul Jacobs, Stephen Lawrence, Louie Lino, Robby Merkin, Caleb Sampson, Dennis Scott, Bill Seery, Elliot Sokolov
Music Coordinator: Danny Epstein
Sound Effects: Dick Maitland
Director, Sesame Street Research: Rosemarie Truglio