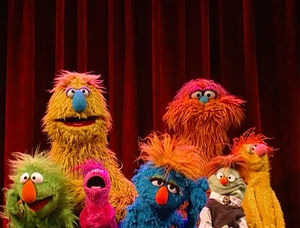 The All Monster and a Guy Named Murray Chorus is a chorus of AM Monsters led by Murray. They sing a song filled with the "Sound of the Letter L". (First: Episode 4116)
Coincidentally, one of the monsters bears a strong resemblance to Murray Monster, with a different color scheme. Another monster in the chorus closely resembles Merry Monster.
Performers of the monsters include Kevin Clash (green monster), David Rudman (blue monster), Leslie Carrara-Rudolph (pink monster), and Martin P. Robinson (orange monster).
Ad blocker interference detected!
Wikia is a free-to-use site that makes money from advertising. We have a modified experience for viewers using ad blockers

Wikia is not accessible if you've made further modifications. Remove the custom ad blocker rule(s) and the page will load as expected.