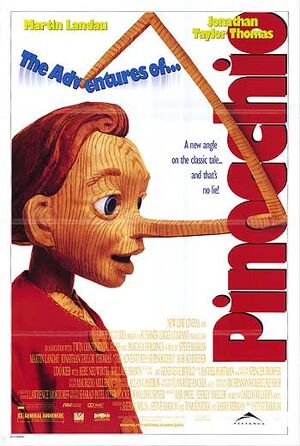 | | |
| --- | --- |
| Released | 1996 |
| Duration | 96 min |
| Director | Steve Barron |
| Written by | Sherry Mills, Steve Barron, Tom Benedek and Barry Berman |
| Music | Rachel Portman |
| Studio | New Line Cinema |
| Rated | G |
The Adventures of Pinocchio is a 1996 live-action version of the classic "Pinocchio" story.
The film started its life when Steve Barron and Jim Henson approached The Walt Disney Company with a live-action version of the classic tale. Disney passed on the project, but it was revived years later when Barron was sent a script that would eventually become The Adventures of Pinocchio.[1]
Henson's initial involvment was what led to Jim Henson's Creature Shop being asked to provide the creature effects for Pinocchio, the sea monster, and other animatronics, and the original model for Pepe the Cricket (with final animation and digital puppetry by MediaLab).
Cast
Jim Henson's Creature Shop
Principal Pinocchio Puppeteers: Mak Wilson, Robert Tygner, Michelan Sisti, Bruce Lanoil, William Todd Jones, Ian Tregonning
Assistant Puppeteers: Peter Hurst, Gillie Robic, Susan Dacre, Phil Woodfine
Creative Supervisor/Second Unit Director: John Stephenson
Project Supervisor/Pinocchio Design: Jamie Courtier
Mechanical Supervisor: Tim Jordan (Prague)
Visual Co-Ordinators: Chris Fitzgerald, John Cormican
Workshop Supervisor: Geoff Paige (London)
Animatronics Designers: Richard Darwin, Adrian Parish, Jamie Jackson-Moore (Prague Unit), Jason Reed, Chris "Flimsy" Howes, Bill Whyte, Andy Roberts, Daniel Burnett, Simon Hewitt, Guy Stevens, Mark Weatherbee, Chris Coxon, Robin Ellis, Vincent Abbott, Simon Williams, Alex Morgan, Michael Penwolf
Sculptors: Nigel Booth, Ray Scott, Ivan Manzella, John Coppinger, David Darby, Simon Clutterbuck
R & D Supervisor: Dave Housman
Sources
↑ No Strings Attached p. 157
Ad blocker interference detected!
Wikia is a free-to-use site that makes money from advertising. We have a modified experience for viewers using ad blockers

Wikia is not accessible if you've made further modifications. Remove the custom ad blocker rule(s) and the page will load as expected.