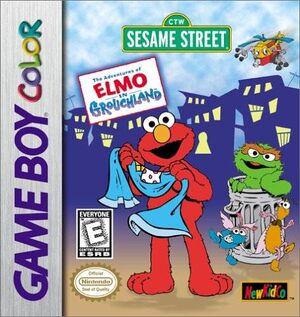 The Adventures of Elmo in Grouchland was a video game based on the movie of the same name. In the game, Elmo's blanket gets blown away by the wind, into Oscar's trash can and into Grouchland USA, where it gets caught on Huxley's helicopter.
The game was released for Game Boy Color, but could also be played on a regular Game Boy.
Levels
Sesame Street
Journey to Grouchland
Foggy Grouchland
Huxley's Chopper
Mine Games
Jumpin' in the Dump
Flowers Bugs and Bugs
Huxley's House
Ad blocker interference detected!
Wikia is a free-to-use site that makes money from advertising. We have a modified experience for viewers using ad blockers

Wikia is not accessible if you've made further modifications. Remove the custom ad blocker rule(s) and the page will load as expected.