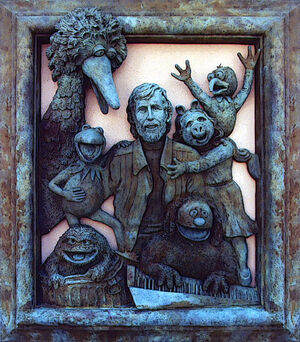 The Academy of Television Arts & Sciences Hall of Fame Plaza is an outdoor exhibit, and adjunct to the ATAS offices, located at 5220 Lankershim Boulevard in North Hollywood, California. The plaza is the only physical representation of the Television Academy Hall of Fame; while the Hall of Fame itself began in 1984, the plaza was first created in May 1991. The Plaza features bronze sculptures, base-reliefs, and wall sculptures depicting television pioneers who have been inducted into the Hall of Fame, including Johnny Carson, Jack Benny, George Burns and Gracie Allen, Sid Caesar, Milton Berle, Bob Hope, William Hanna and Joseph Barbera, and Bill Cosby. The centerpiece of the Plaza is a water fountain adorned with a 27-foot Emmy Award statue. In 1992, a deal was signed with the Walt Disney Company, arranging for a portion of the Disney-MGM Studios at Walt Disney World to become the East Coast counterpart of the plaza, and the attraction opened in 1994.
On September 28, 2005, the Academy dedicated a bronze wall sculpture as a tribute to Jim Henson. The dedication ceremony coincided with the first day of issue of the United States Postage Service's Jim Henson and Muppets Stamps. The wall display, sculpted by Dick Stiles, stands more than 7 feet tall and weighs 1,200 pounds. The sculpture depicts Henson surrounded by Big Bird, Kermit the Frog, Oscar the Grouch, Rowlf the Dog, Miss Piggy and Gonzo.
See also
External links
Ad blocker interference detected!
Wikia is a free-to-use site that makes money from advertising. We have a modified experience for viewers using ad blockers

Wikia is not accessible if you've made further modifications. Remove the custom ad blocker rule(s) and the page will load as expected.