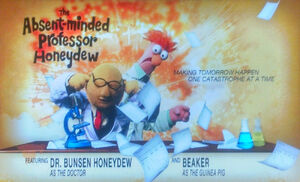 The Absent-Minded Professor is a 1961 comedy distributed by The Walt Disney Company. It tells the story of a college professor who invents a substance that gains energy when it strikes a hard surface. The film spawned Disney's first sequel in 1963, Son of Flubber, and was remade in 1988 for a pair of The Magical World of Disney TV specials with Harry Anderson, and again in 1997 with Robin Williams.
References
Connections
Ad blocker interference detected!
Wikia is a free-to-use site that makes money from advertising. We have a modified experience for viewers using ad blockers

Wikia is not accessible if you've made further modifications. Remove the custom ad blocker rule(s) and the page will load as expected.