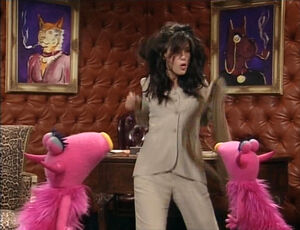 In the Psychiatrist's Office sketch from Muppets Tonight episode 107, guest star Sandra Bullock plays "Dr. Bullock, Animal Psychiatrist." Kermit, the patient, claims that he sees strange creatures whenever he says the word "phenomena." The creatures are the two Snowths, who appear and sing, "Do do, do-do-do," in a reference to the classic Muppet sketch "Mahna Mahna." Doglion makes an appearance at the end of the sketch.
Ad blocker interference detected!
Wikia is a free-to-use site that makes money from advertising. We have a modified experience for viewers using ad blockers

Wikia is not accessible if you've made further modifications. Remove the custom ad blocker rule(s) and the page will load as expected.