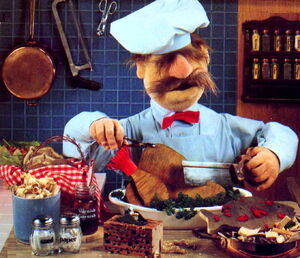 That's Incredible! was a reality television show which aired on ABC 1980 to 1984. Hosted by John Davidson, Fran Tarkenton and Cathy Lee Crosby, the show featured everything from knife throwers to bullet catchers.
References
In the 1983 Hallmark calendar The Muppets Look at TV, the show is spoofed as "Thats Inedible!", with the Swedish Chef making a Scandinavian Smorgasboard, consisting of Hickory Chips Romanoff, Turkey au Timber, and a Swiss Cheese Log.
In Elmo's World: Skin, the All About Skin Channel advertises that That's Skincredible! is coming up next.