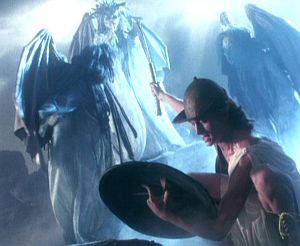 Tess and Deborah Vale are identical twin actresses. They appeared in The StoryTeller: Greek Myths episode "Perseus and the Gorgon," as the Gorgon sisters of Medusa.
The Vales have appeared in various film and TV projects. TV work included The Tomorrow People, Oliver Twist, and The Great Kandinsky (the latter as circus performers). In film, they played twin nuns in Quills. Tessa Vale has occasionally appeared in solo bits, in the films 102 Dalmatians and About a Boy.
Ad blocker interference detected!
Wikia is a free-to-use site that makes money from advertising. We have a modified experience for viewers using ad blockers

Wikia is not accessible if you've made further modifications. Remove the custom ad blocker rule(s) and the page will load as expected.