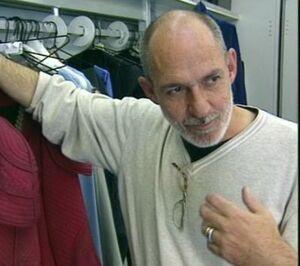 Terry Ryan is an Australian costume designer and puppeteer. He designed the costumes for Farscape, including scale outfits for Rygel, and received a 2002 Emmy Award nomination for Outstanding Sostume for a Series. He also puppeteered for a couple of third season episodes, having previously puppeteered on Babe.
Ryan has worked in costuming for Australian film and television since the 1970s, including Gallipoli (with Mel Gibson). Films as costume designer include Muriel's Wedding, Paradise Raod (with Glenn Close), Knowing, Inspector Gadget 2, and the 2005 version of King Kong. As a puppeteer, he played Derryn on the Australian children's series The Ferals.
Creature Shop credits
Ad blocker interference detected!
Wikia is a free-to-use site that makes money from advertising. We have a modified experience for viewers using ad blockers

Wikia is not accessible if you've made further modifications. Remove the custom ad blocker rule(s) and the page will load as expected.