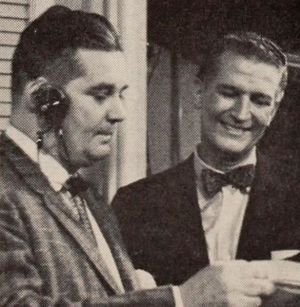 Terry Ross (d. 1997) was a sound effects artist, first on radio and then in television. He worked as a sound effects artist on Sesame Street, receiving credits billing for season 3 and season 4.[1] He also contributed to the 1972 album The Muppet Musicians of Bremen, bolstering the story with added sound effects not heard in the original special.
Ross' long career as a sound man was spent primarily on staff for ABC, first on old-time radio series such as The Greatest Story Ever Told (1947-1956) and Inner Sanctum (during its ABC run, 1950-1951). Ross' experience on the latter, when the trademark "creaking door" was mistakenly oiled and he had to create the sound vocally, was a widely quoted anecdote in articles about the series or its cast,[2] and typical of the sound man's travails in live-radio. Ross later contributed to the revival series Theater Five (1964-1965) and worked on several ABC soap operas, including Dark Shadows.
Sources
↑ 40 Years of Sunny Days DVD credits, reprinting credit rolls for Sesame Street seasons 1-40.
↑ Goldstein, Richard. "Raymond E. Johnson, radio host, dies at 90." The New York Times. Sept. 16, 1921
Ad blocker interference detected!
Wikia is a free-to-use site that makes money from advertising. We have a modified experience for viewers using ad blockers

Wikia is not accessible if you've made further modifications. Remove the custom ad blocker rule(s) and the page will load as expected.