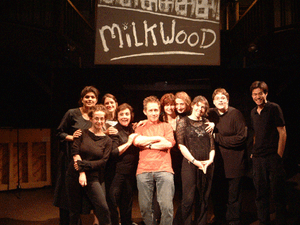 Terry Lee is a stage and street puppeteer from Wales who performed Goblins in Labyrinth.
Lee's company, Green Ginger, has been performing its award-winning puppet shows globally since 1978. His most recent project, a radical puppet version of Dylan Thomas' Under Milkwood was performed at the O'Neill Puppetry Conference in June 2006 and included some newer Muppet performers, Amanda Maddock and Ryan Dillon.
External links
Ad blocker interference detected!
Wikia is a free-to-use site that makes money from advertising. We have a modified experience for viewers using ad blockers

Wikia is not accessible if you've made further modifications. Remove the custom ad blocker rule(s) and the page will load as expected.