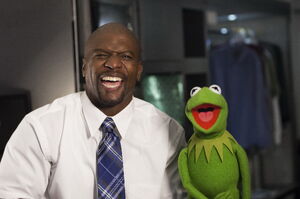 Terry Crews is a former football player and actor most well known for appearing on Everybody Hates Chris, Brooklyn Nine-Nine with Andy Samberg and a series of Old Spice commercials.
Crews appeared in a commercial for Toyota in the 2014 Super Bowl with the Muppets. He also appeared on Sesame Street in a season 45 Word of the Day segment, presenting the word "artist" with The Count and Abby Cadabby.
External links
Ad blocker interference detected!
Wikia is a free-to-use site that makes money from advertising. We have a modified experience for viewers using ad blockers

Wikia is not accessible if you've made further modifications. Remove the custom ad blocker rule(s) and the page will load as expected.