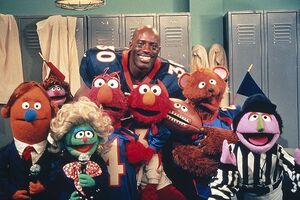 Terrell Davis (b. 1972) was a running back for the Denver Broncos from 1995 to 2001.
Davis appeared in a Sesame Street sketch. Telly, Elmo and Baby Bear congratulate Terrell on his great game, but he learns that he isn't quite done, since he hasn't yet said the alphabet. (EKA: Episode 3894)
Davis also sang in the celebrity version of "Sing" in Episode 3851.