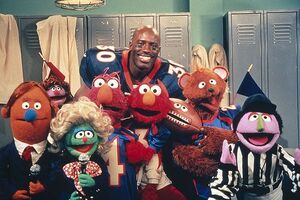 Terrell Davis (b. 1972) was a running back for the Denver Broncos from 1995 to 2001.
Davis appeared on Sesame Street in Season 30, in a sketch where Telly, Elmo and Baby Bear congratulate Terrell after a great game, but is persuaded by a football sitting next to him to say the alphabet. (First: Episode 3835) Davis's appearance was later featured in the celebrity version of "Sing."
According to an article published by the Associated Press, the sketch was filmed on December 14, 1998.[1]
References
↑ Terrell Davis To Visit Sesame Street. AP News Archive.
Ad blocker interference detected!
Wikia is a free-to-use site that makes money from advertising. We have a modified experience for viewers using ad blockers

Wikia is not accessible if you've made further modifications. Remove the custom ad blocker rule(s) and the page will load as expected.