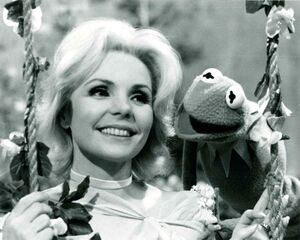 Teresa Brewer (1931-2007) was an American pop singer, songwriter and author. She was the guest star in episode 222 of The Muppet Show.
Brewer had two #1 hits on the Billboard singles chart: "Music! Music! Music!" (1950) and "Till I Waltz Again with You" (1953). She performed "Music! Music! Music!" on The Muppet Show.
Brewer died October 17, 2007, of Progressive Supranuclear Palsy (PSP). She recorded nearly 600 songs during her 60-year career.
External links
Ad blocker interference detected!
Wikia is a free-to-use site that makes money from advertising. We have a modified experience for viewers using ad blockers

Wikia is not accessible if you've made further modifications. Remove the custom ad blocker rule(s) and the page will load as expected.