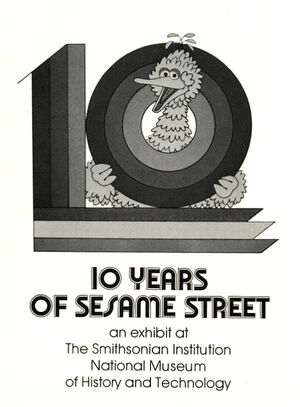 Ten Years of Sesame Street was an exhibit held at The Smithsonian Institution from June to September 1979. Celebrating the show's tenth anniversary, the exhibit featured a 50-foot replica of a portion of the street set, with mannequins of Bob, Susan, Mr. Hooper, Big Bird and Oscar the Grouch. The exhibit also featured special video highlights from the show's first ten years. Screened throughout the summer were the tenth anniversary special, A Walking Tour of Sesame Street, and Children's Television Workshop: Ten Years of Film, a collection of film compiled by John Hanhardt.
Along with the exhibit, the Smithsonian hosted a special panel on May 31, with Joan Ganz Cooney, Gerald S. Lesser, Edward L. Palmer and David Connell, moderated by WRC-TV newscaster Pat Edmister.
The exhibit reportedly had over 85,000 visitors in its first week and approximately 150,000 per week in June.
See also
Sources
CTW Newsletter, Issue #44, June 1979
Ad blocker interference detected!
Wikia is a free-to-use site that makes money from advertising. We have a modified experience for viewers using ad blockers

Wikia is not accessible if you've made further modifications. Remove the custom ad blocker rule(s) and the page will load as expected.