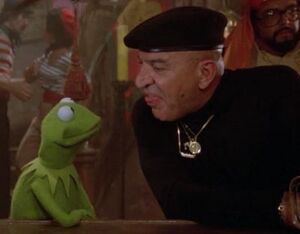 Telly Savalas (1924-1994) makes a cameo appearance in The Muppet Movie as a tough guy at the El Sleezo Cafe.
Savalas was nominated for an Academy Award for his role in the 1962 film the Birdman of Alcatraz. Other credits include the James Bond film On Her Majesty's Secret Service, voicing Magmar in Gobots: Battle of the Rock Lords, playing the Cheshire Cat in a 1985 television movie of Alice in Wonderland, guest appearances on The Love Boat, Bonanza, the Alfred Hitchcock Hour, The Twilight Zone, and his most famous role, Kojak.
External links
Ad blocker interference detected!
Wikia is a free-to-use site that makes money from advertising. We have a modified experience for viewers using ad blockers

Wikia is not accessible if you've made further modifications. Remove the custom ad blocker rule(s) and the page will load as expected.