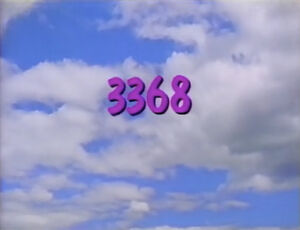 Picture
Segment
Description




COLD OPEN
The scene begins with a logo: the words "Telly's Town" take up the screen, as a rainbow trail rotates behind them. Telly chants, "Telly's Town! Telly's Town! Music time! Excellent!" and mimics a guitar solo. Telly invites Big Bird to join him in his "totally amazing, excellent music video show." Big Bird tries doing what Telly did at the beginning, and succeeds. Telly explains that the show's vocabulary consists of terms like "cool," "excellent," "hey dude," and of course "excellent."




SCENE 1
Big Bird wonders if all they do on the show is say its name, but Telly explains that they'll have excellent videos and live musical guests. He then announces today's guests: the Four Tuba Guys! He and Big Bird perform the show's theme as a fanfare.




SCENE 1
cont'd
The Four Tuba Guys don't show up, but instead Telly and Big Bird find themselves face to face with a deliveryman, Wayne (Mike Myers). Wayne has a telegram from the Four Tuba Guys, which Telly is dying to hear. Before he reads it, however, Wayne makes a long speech about how excellent it is that there is such a thing as reading. The telegram from the band says their plane has been delayed, and they will now be traveling by train.




SCENE 1
cont'd
The camera quickly zooms in on Telly's face as he screams "OH NO!!" Wayne leaves, and Big Bird suggests they show some videos. On the TV, they view a Cecille video.

Animation
Cecille sings "I'm Gonna Get to You."
(EKA: Episode 2951)

Muppets
Ernie and Bert: Ernie wants to play a game with Bert about heavy and light. Bert surprisingly wants to play. Ernie shows the audience all the light objects including a tissue, cotton candy and a feather. Bert has to bring in all the heavy objects including a barbell, a boulder and the piano.
(EKA: Episode 3036)

Cartoon
Harold and Howard think of H words. (new sound effects added)
(EKA: Episode 1056)
Artist: Cliff Roberts

Film
H for Hat - kids try on different hats as camera shutters go off.

Animation
Soul H!

Muppets
Elmo sings "In Your Imagination." (new overdubs added)
(EKA: Episode 3119)

Animation
A girl likes to pretend she's an astronaut.
(EKA: Episode 2956)

SCENE 2
Telly introduces the "Fuzz Clip of the Week," a music video by Fur Jam.

SCENE 2
cont'd
Fur Jam sings "Don't Waste the Water."




SCENE 2
cont'd
Wayne arrives with another telegram from the Four Tuba Guys ... but not without giving another heartfelt speech on the importance of reading. The telegram says that the band is now taking a bus instead of a train. Telly, feeling bummed but knowing the show must go on, introduces the next video.

SCENE 2
cont'd
The scene segues into the next video ...

Song
"Hot in the City"
(EKA: Episode 2751)

Cartoon
Characters on a quilt form the letter S.
Artist: Karen Aqua

Film / Muppets
Alphaquest: S
A swimsuit, Grover as a silly surfer, a seagull, a sunset and a submarine.
(EKA: Episode 2747)

Cartoon
Typewriter: S for Spring
(EKA: Episode 0886)




Muppets
Rosita sings "Fiesta," about the difference between a siesta and a fiesta.

Cartoon
A chicken sings "It Ain't Heavy, It's My Feather."
(EKA: Episode 2979)

Song
"It's Time for a Rhyme"
(First: Episode 3151)




Cast
Ruthie reads a story to the kids: "The King Who Couldn't See So Well." In the story, a blind king can't see his subjects, his daughter, his royal dinner, or his reflection in the mirror. Luckily, the Royal Smart Person (a little girl) tells him he needs glasses. He gets a pair from the eye doctor, which improves his sight (and his life) greatly.

Song
"Brand New Look" - people try on glasses.
(First: Episode 3271)

Cartoon
Two girls sing a reggae rendition of the alphabet.
(EKA: Episode 3269)

Muppets
Colambo visits Tom the Piper's Son and asks him questions concerning a stolen pig.
(EKA: Episode 3112)

Cartoon
A pig sings "I Love Being a Pig." (new sound effects added)
(EKA: Episode 0592)

Film
Two Navajo children visit their grandparents who live on a ranch.
(EKA: Episode 2758)

Animation
H/h (space paint)
(EKA: Episode 3218)

Animation
The letter H appears in words on buildings.

SCENE 3
Telly says it's now time for the video countdown, where they count down to the next video.

SCENE 3
cont'd
We segue into the next video ...

SCENE 3
cont'd
The Counting Crows (actual crows) sing "Count it 1-2-3."




SCENE 3
cont'd
Wayne shows up with yet another telegram from the Four Tuba Guys, and yet another speech on the importance of reading - but Telly knows his modus operandi by now, and just begs to hear the telegram. It says the band's bus broke down, and now they're walking to the show. Wayne laments, "Well, the telegram is read and it looks like my work here is done ... I promised myself I wouldn't cry ... I love you all!" and darts off.

SCENE 3
cont'd
We segue into the next video ...

Cartoon
Rap #17
(First: Episode 2488)

Film
Growing Numbers #17
(EKA: Episode 3059)

Animation
Masked March #17

Film
Fay Ray dresses up as different animals. ("It's Kermit the Dog!")
(EKA: Episode 2687)

Muppets
The Count, dressed up as Elvis, sings "You Gotta Count My Blue Suede Shoes."
(EKA: Episode 3231)

Cartoon
A dinosaur tries to eat an apple on a tree. A group of kids keep telling him to "GO HIGHER!"
(EKA: Episode 2977)

Animation
Shake / lake / bake / take / make
(EKA: Episode 3101)




SCENE 4
Back to Telly's Town. Telly is worried about the Four Tuba Guys, but Wayne comes back to deliver each of the four tubas - and a telegram from the band, who became too tired from walking.




SCENE 4
cont'd
The camera makes an extreme close-up on Telly as he panics. It turns out Wayne plays the tuba himself. He even brought his tuba-playing friends: a green monster with glasses, and Slimey. If they add Telly to the group, they can be four tuba guys themselves! They all play the Sesame Street Theme as Big Bird announces the sponsors.
Ad blocker interference detected!
Wikia is a free-to-use site that makes money from advertising. We have a modified experience for viewers using ad blockers

Wikia is not accessible if you've made further modifications. Remove the custom ad blocker rule(s) and the page will load as expected.