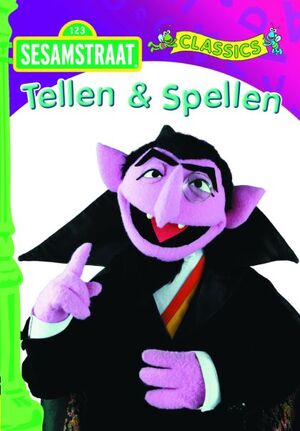 Tellen & Spellen (Counting and Spelling) is a Sesamstraat DVD released in 2008, as part of Weton Wesgram's Sesamstraat Classics collection.
Segments
Boeken deel 12
Tellen
ABCD
Ben ik een letter of ben ik een cijfer
Keizer van cijferland
Optellen, optellen, optellen
Puzzel Ieniemienie
14 vuurvliegjes
Spinnen tellen
Tweekoppig monster leest een verhaal voor
Pretfabriek letter L
Elvan schrijft
O, als ik toch eens lezen kon
Het tweekoppig monster probeert van de hik af te komen
Schaduwen
Feodoor 1 - slapen
Ad blocker interference detected!
Wikia is a free-to-use site that makes money from advertising. We have a modified experience for viewers using ad blockers

Wikia is not accessible if you've made further modifications. Remove the custom ad blocker rule(s) and the page will load as expected.