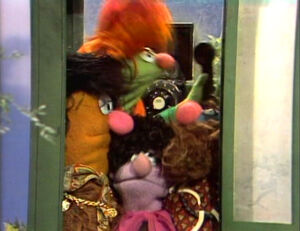 "Telephone Rock" is a Sesame Street song performed by Little Jerry and the Monotones. In this song, Little Jerry gets into a telephone booth, where he starts singing to the operator (performed by Richard Hunt), and eventually the Monotones pop up and join him. They duck down before the operator asks who it is that's calling her. They do this again a few times, harassing the operator until she shows up and has a cop arrest them (by shutting the telephone booth door and carrying it away).
Notes
The police officer that arrested the band in the telephone booth at the end of the song was performed by Marty Robinson at the end of the Rock & Roll! video. On the Signs! album, he was voiced by Jerry Nelson.
Jerry Nelson voices Big Jeffy in this song.
Releases
Audio (album version)
Video