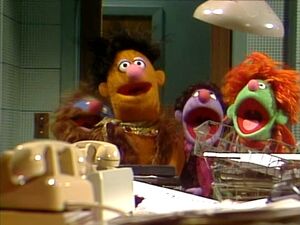 "Telephone Rock" is a Sesame Street song performed by Little Jerry and the Monotones in season 6.
Little Jerry gets into a telephone booth, where he (joined by the Monotones) starts singing to the operator. They end up harassing her until she shows up with a cop, who arrests them (by shutting the telephone booth door and carrying it away as they continue the song).
Notes
The police officer that arrests the band at the end of the song was performed by Martin P. Robinson at the end of the Rock & Roll! video. On the Signs! album, he was voiced by Jerry Nelson.
Jerry Nelson voices Big Jeffy in this song.
Releases
Audio (album version)
Video
Ad blocker interference detected!
Wikia is a free-to-use site that makes money from advertising. We have a modified experience for viewers using ad blockers

Wikia is not accessible if you've made further modifications. Remove the custom ad blocker rule(s) and the page will load as expected.