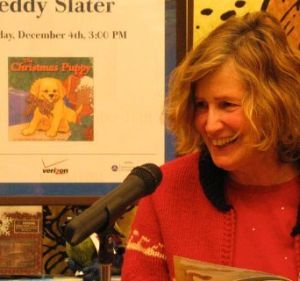 Teddy Slater, sometimes credited as Teddy Slater Margulies, is a children's book author who wrote the Sesame Street books Oscar's New Neighbor (1992) and I Want to Be a Pilot (1995).
Slater has written several Disney tie-ins (featuring Beauty and the Beast, Lady and the Tramp, The Lion King, and Winnie the Pooh) as well as Clifford the Big Red Dog and various storybooks of her own sans licensed characters (such as Molly's Monsters).
Ad blocker interference detected!
Wikia is a free-to-use site that makes money from advertising. We have a modified experience for viewers using ad blockers

Wikia is not accessible if you've made further modifications. Remove the custom ad blocker rule(s) and the page will load as expected.