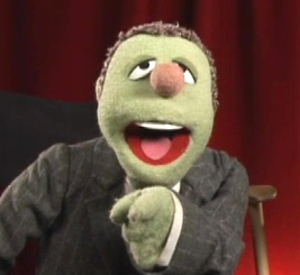 Ted Thomas Jr. is an excitable entertainment correspondent on Statler and Waldorf: From the Balcony. In Episode 17, his first appearance, he discusses the 2005 Oscar nominations with his co-host, Loni Dunne. He returned in Episode 19, where he interviewed Hugo, a stunt dog from the remake of The Shaggy Dog. In Episode 27, he interviews Craig Kent, thinking that he's Superman.
Ted's puppet had previously been used in the Muppet Meeting Film "How to Sell" as Gimley's Boss, and as an audience member in the opening of Muppet Classic Theatre.
His father Ted Thomas Sr. appeared in Episode 31 interviewing George Lucas (a young Ted Jr. is heard off camera).