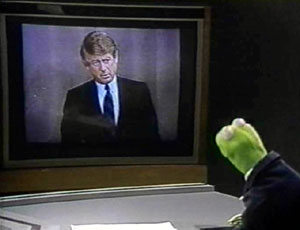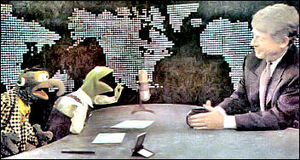 Ted Koppel (b. 1940) served as the host of news show Nightline from 1980 to 2005. In 1987, he appeared alongside the Muppets when they co-hosted for the night.
Koppel was interviewed by guest host Kermit the Frog on Larry King Live on April Fools Day, 1994.
He was interviewed for the television documentary, The World of Jim Henson.
References
At the start of Elmopalooza, Kermit, reporting on the event at Radio City Music Hall, asks an unseen crew member if they've seen Ted Koppel's outfit and requests the name of his tailor.
External links
Ad blocker interference detected!
Wikia is a free-to-use site that makes money from advertising. We have a modified experience for viewers using ad blockers

Wikia is not accessible if you've made further modifications. Remove the custom ad blocker rule(s) and the page will load as expected.