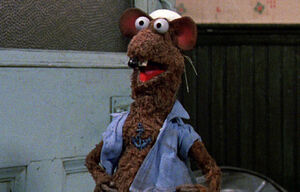 Tatooey Rat, also known as "Rat Tatooey" (Ratatouille), works in Pete's Luncheonette with fellow rats Rizzo, Chester Rat, Masterson, and Yolanda in The Muppets Take Manhattan.
Tatooey, who has an anchor tattooed on his chest, first appeared when he and the other rats showed up in Pete's kitchen and asked him for a job. He was featured in the musical number "Rat Scat (Something's Cookin')."
Tatooey alongside the other rats made appearances in A Muppet Family Christmas.