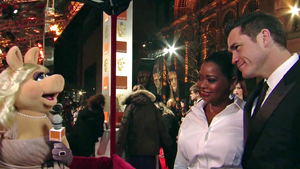 Tate Taylor is an American actor, screenwriter, film producer and director, known for directing the Academy Award nominated film The Help.
At the 2012 BAFTA Awards, Taylor and actress Octavia Spencer talked with Miss Piggy for her Orange Film red carpet show, where the latter mistook The Help for a remake of The Beatles' song "Help!"
Previous roles include a recurring role on Sordid Lives: The Series, guest spots on Six Feet Under, Queer as Folk, The Drew Carey Show, and films including 2001's Planet of the Apes and I Spy.
Ad blocker interference detected!
Wikia is a free-to-use site that makes money from advertising. We have a modified experience for viewers using ad blockers

Wikia is not accessible if you've made further modifications. Remove the custom ad blocker rule(s) and the page will load as expected.