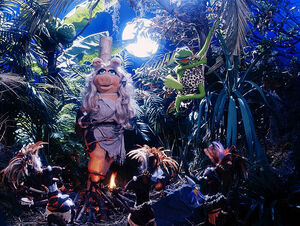 Tarzan, a fictional character created by Edgar Rice Burroughs, first appeared in the 1912 novel Tarzan of the Apes, and then in twenty-three sequels. He is the son of a British Lord and Lady, marooned on the coast of Africa by mutineers. His parents died when he was an infant, and he was raised by Great Apes of a species unknown to science. Kala is his ape mother. Tarzan (White-skin) is his ape name; his English name is John Clayton, Lord Greystoke. As a young adult, he meets Jane, and when she returns to America he leaves the jungle in search of his true love. Tarzan and Jane marry, and he lives with her for a time in England. They have one son, Jack, who takes the ape name Korak. Tarzan is contemptuous of the hypocrisy of civilization, and he and Jane return to Africa where, both being immortal, they still live.
References
Connections
Ad blocker interference detected!
Wikia is a free-to-use site that makes money from advertising. We have a modified experience for viewers using ad blockers

Wikia is not accessible if you've made further modifications. Remove the custom ad blocker rule(s) and the page will load as expected.