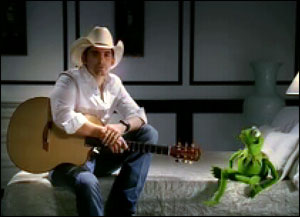 Target is a discount retail chain. They have carried exclusive Muppet merchandise over the years, as well as featuring Kermit in an advertising campaign. A number of Sesame Street videos were released first as Target exclusives before getting wide releases months later.
Commercials
In November 2005, Kermit appeared in several advertisements for Target's wake-up calls designed to promote their two-day sale beginning on the morning of what has become known in the U.S. as "Black Friday," the biggest holiday shopping day of the year which follows Thanksgiving Day. Some of the commercials with Kermit also featured Brad Paisley and Carolyn Murphy.

Promotions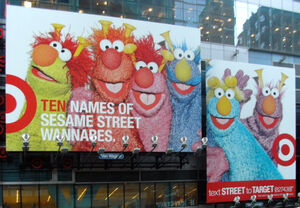 2007: A Christmas shopping ad aired throughout the holiday season featuring Elmo popping out of an advent-like calendar with several other franchise characters such as R2-D2, promoting, among other prizes, the chance to win a trip to Sesame Street.
2009: An exclusive Big Bird puppet is added to Target's previously exclusive line of Fisher-Price Sesame Street puppets, though this one remains a Target exclusive.
Exclusives
Connections
See also