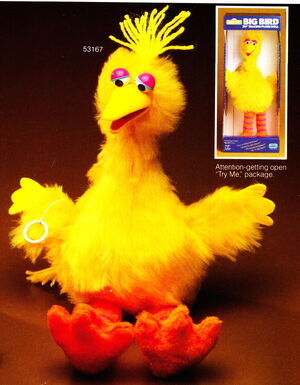 Talking Big Bird is a plush Big Bird toy made by CBS Toys in 1980, under the Gabriel and Child Guidance labels. When a ring on his back is pulled, Big Bird says four phrases including:
"Want some birdseed?"
"I live on Sesame Street!"
"I love you very much!"
"Hi! I'm Big Bird!"
By pushing a lever in the back of his head it is possible to make his mouth move.
See also
Ad blocker interference detected!
Wikia is a free-to-use site that makes money from advertising. We have a modified experience for viewers using ad blockers

Wikia is not accessible if you've made further modifications. Remove the custom ad blocker rule(s) and the page will load as expected.