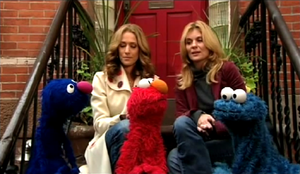 Talk Stoop is an interview show that airs on NBC, where host Cat Greenleaf interviews guests from the stoop of her New York City apartment.
Alison Bartlett, Elmo, Grover and Cookie Monster were featured on the program in 2010 to promote the 40th anniversary season of Sesame Street. Sonia Manzano was also interviewed in a 2009 episode.
Ad blocker interference detected!
Wikia is a free-to-use site that makes money from advertising. We have a modified experience for viewers using ad blockers

Wikia is not accessible if you've made further modifications. Remove the custom ad blocker rule(s) and the page will load as expected.