ATTENTION
TALK PAGES ARE NO LONGER USED
To discuss article changes, please use:
If you see comments on this page, they remain for archive purposes.
NEWLY ADDED COMMENTS WILL BE REMOVED
Spelling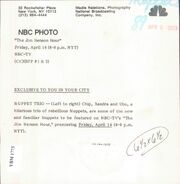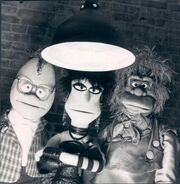 Do we have a definite source for the spelling of her name? This press photo caption calls her "Xandra". --GrantHarding 03:53, June 22, 2012 (UTC)
Oh wow, great find! I don't think there's a source for Zondra. I'm guessing we were just going by how it sounded from being named on screen. Unless someone else has something, we can move the page to Xandra. Do you also have the photo that accompanies it? —Scott (message me) 04:10, June 22, 2012 (UTC)
Sure, here it is. It's from this eBay auction: http://www.ebay.ca/itm/1989-Jim-Henson-Hour-Muppet-Chip-Zandra-Ubu-Rebellious-Puppets-Press-Photo-/160828051651?pt=Art_Photo_Images&hash=item25721950c3 --GrantHarding 20:15, June 23, 2012 (UTC)
Here's the old Henson.com "featured creature" article on her, which spells it the same way it's spelled here. --Minor muppetz 20:20, June 23, 2012 (UTC)
That's interesting. The profile at Henson.com would be using documents from the Henson archives, I would assume. If not, they could have been basing the spelling off of audio reference. Similarly, the press photo could have been written by someone at NBC who only heard the character name in the episode, but it's not as likely as getting it from Henson who would have provided the materials in the first place. It's a hard one to figure out. I think for now maybe we keep it at Zondra, and make a note about Xandra on the NBC photo. —Scott (message me) 00:24, June 24, 2012 (UTC)
That makes sense. We know, from Gorch, that spelling discrepancies within official documents even weren't unknown, and it's also possible for something to have changed between press and airdate, or whatever. -- Andrew Leal (talk) 03:10, June 24, 2012 (UTC)
A question for Ms. Falk? --GrantHarding 23:49, June 24, 2012 (UTC)
If you want to give it a shot, sure. The last few things I tried to get her help with, she didn't have much to offer other than to say that she sent all the Muppet stuff to Disney. —Scott (message me) 00:09, June 25, 2012 (UTC)
Oz
I think she was also seen at Poppyfields (or whatever the Oz nightclub was). Can anyone remember and/or confirm?
She was. -- MuppetDude 17:29, 3 March 2006 (UTC)
Ad blocker interference detected!
Wikia is a free-to-use site that makes money from advertising. We have a modified experience for viewers using ad blockers

Wikia is not accessible if you've made further modifications. Remove the custom ad blocker rule(s) and the page will load as expected.