ATTENTION
TALK PAGES ARE NO LONGER USED
To discuss article changes, please use:
If you see comments on this page, they remain for archive purposes.
NEWLY ADDED COMMENTS WILL BE REMOVED
Help, We're Stuck!
The issue in question is unresolved. Can you help?
Does anyone know what happened in this sketch?
I bought it on ebay a few years ago... Wozza 00:17, December 31, 2009 (UTC)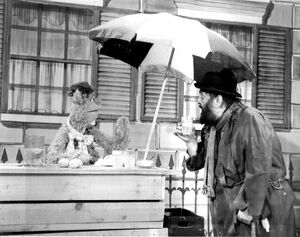 The guest stars never appeared in the UK spots. --Minor muppetz 02:55, December 31, 2009 (UTC)
Fozzie seems to be selling home made lemonade? Is this a sketch/scene form a musical? Wozza 22:30, March 20, 2010 (UTC)
Its from no musical that I can recall. I'm actually wondering if they recorded "If I Were a Rich Man" and cut it from the final edit of the show. That picture would fit in with that song. -- Nate (talk) 15:21, March 23, 2010 (UTC)
In the UK Spot in the episode, Kermit says that Fozzie and Zero were scheduled to do a "pantomime" on the show. Then he calls out "stand by for the pantomime sketch," so the scene could have taken place right after the UK Spot. ... Well, it's a little bit of info, anyway. --Justin 01:51, April 13, 2010 (UTC)
Ad blocker interference detected!
Wikia is a free-to-use site that makes money from advertising. We have a modified experience for viewers using ad blockers

Wikia is not accessible if you've made further modifications. Remove the custom ad blocker rule(s) and the page will load as expected.