ATTENTION
TALK PAGES ARE NO LONGER USED
To discuss article changes, please use:
If you see comments on this page, they remain for archive purposes.
NEWLY ADDED COMMENTS WILL BE REMOVED
Peter Cooper Village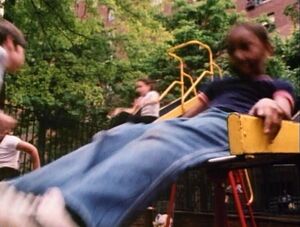 I can tell you that was shot in Peter Cooper Village because I grew up and still live there. The complex and its sister complex, Stuyvesant Town, were built as middle-class housing by the Metropolitan Life Insurance Company (MetLife) for WWII veterans in 1947. The building in that picture there is 4 Peter Cooper Road. Those slides are the same ones that I played on as a child. They were rotated 90 degrees counterclockwise during the 1990s. The windows there were replaced during 1991. In 2001, the complexes were transformed from middle-class housing to luxury apartments, and Playground #2 was rebuilt completely. in 2006, MetLife sold Peter Cooper Village and Stuyvesant Town to Tishman-Speyer for US$4.5 billion, which was the largest-ever real-estate transaction in the history of the United States. Is that enough of a citation? Peace. —MuzikJunky 08:09, 12 February 2008 (UTC)
http://www.petercoopernyc.com/ and click on the Property --> Amenities. The fourth picture of the Flash animation is the way that playground #2 looks today. Also, the clip in which a boy goes to the dry cleaners was shot at Stuyvesant Dry Cleaners, which was directly across the street from that playground on East 20th Street. I removed the link that I added to the article because the official Web site makes me sick. Thank you, Pataki, Giuliani, and Bloomberg. Thank God for rent stabilization. Peace. —MuzikJunky 00:23, 15 February 2008 (UTC)
Ad blocker interference detected!
Wikia is a free-to-use site that makes money from advertising. We have a modified experience for viewers using ad blockers

Wikia is not accessible if you've made further modifications. Remove the custom ad blocker rule(s) and the page will load as expected.