ATTENTION
TALK PAGES ARE NO LONGER USED
To discuss article changes, please use:
If you see comments on this page, they remain for archive purposes.
NEWLY ADDED COMMENTS WILL BE REMOVED
Count as a Reference
In episodio 1002 of Plaza Sesamo, their newspaper is seen with a bunch of stolen, Photoshoped images (They put in the Swedish Chef and drew a face on him). One section has a picture of the fan-made character "Muppet Monster Fan" from this article. Does it count as a reference? - Oscarfan 14:55, July 27, 2011 (UTC)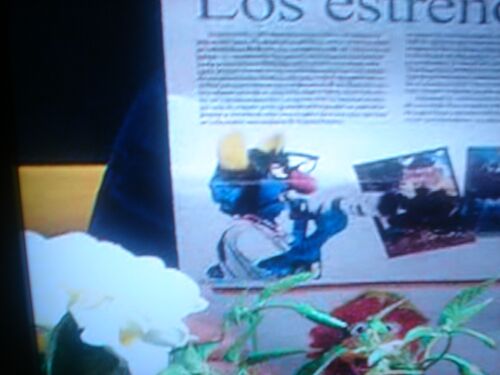 This is the best I can do (I don't know how to record things from my DVR to tape or DVD). The scene isn't online (if it was, you can bet I would've used it for better screenshots). - Oscarfan 15:53, July 30, 2011 (UTC)
Yeah, that's definitely worth mentioning on the article. As for getting screenshots from your DVR, I use a DVD burner that I bought some years ago for under a hundred bucks. Then you can capture screenshots from the DVDs you burn of the programs on your DVR. —Scott (contact) 16:13, July 30, 2011 (UTC)
I have a DVD/VCR recorder, but I don't know how to get them on the same input. - Oscarfan 16:18, July 30, 2011 (UTC)
Ad blocker interference detected!
Wikia is a free-to-use site that makes money from advertising. We have a modified experience for viewers using ad blockers

Wikia is not accessible if you've made further modifications. Remove the custom ad blocker rule(s) and the page will load as expected.