ATTENTION
TALK PAGES ARE NO LONGER USED
To discuss article changes, please use:
If you see comments on this page, they remain for archive purposes.
NEWLY ADDED COMMENTS WILL BE REMOVED
Rosita and Gordon, 2010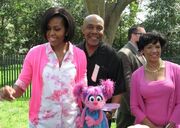 Has anyone actual seen or read something proving Roscoe Orman and Rosita actually did make it to the event? I've seen pics of Abby, Elmo, and Sonia Manzano, zilch of the other two. -- Zanimum 18:10, April 12, 2010 (UTC)
I've seen some pictures of Rosita (and Carmen Osbahr) from the event. @sesamestreet even tweeted one of Rosita at the event [1]. I don't remember if I saw any of Roscoe, but that doesn't mean he wasn't there too. -- Brad D. (talk) 18:39, April 12, 2010 (UTC)
White House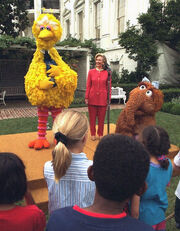 I have this picture on my hard drive from I don't know when. Is this from an eggroll? —Scott (talk) 01:48, 24 March 2008 (UTC)
Nope, it was a PR thing about renewing funding for public television. Here's a reference. -- Danny (talk) 01:50, 24 March 2008 (UTC)
Ad blocker interference detected!
Wikia is a free-to-use site that makes money from advertising. We have a modified experience for viewers using ad blockers

Wikia is not accessible if you've made further modifications. Remove the custom ad blocker rule(s) and the page will load as expected.