ATTENTION
TALK PAGES ARE NO LONGER USED
To discuss article changes, please use:
If you see comments on this page, they remain for archive purposes.
NEWLY ADDED COMMENTS WILL BE REMOVED
Float Query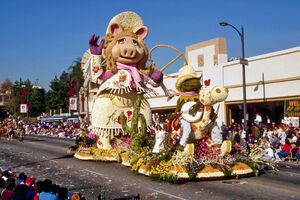 Does anybody know if this image belongs here? Don't remember where I got it from, nor do I have a date that goes with it. —
Julian
(
talk
) 07:36, 17 July 2009 (UTC)
Took me a little searching online, but it is from the parade. The float was in the 1990 parade, and was the Transamerica Life Companies entry for that year. It was a 55-foot-long float, festooned with roses, daisies, mums and orchids, and featured a 34-foot-tall Miss Piggy made of carnations and roses, who swings her lasso at a moss-covered Kermit on a hobby horse. -- Nate (talk) 14:30, 17 July 2009 (UTC)
Ad blocker interference detected!
Wikia is a free-to-use site that makes money from advertising. We have a modified experience for viewers using ad blockers

Wikia is not accessible if you've made further modifications. Remove the custom ad blocker rule(s) and the page will load as expected.