ATTENTION
TALK PAGES ARE NO LONGER USED
To discuss article changes, please use:
If you see comments on this page, they remain for archive purposes.
NEWLY ADDED COMMENTS WILL BE REMOVED
Two-hand Snerf?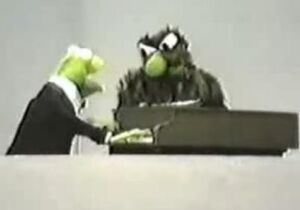 CLamanatha added a picture, with the caption: "Kermit and a two hand Snef (a kind of Snerf in with the performer need to operate with the two hands) in the Music Hath Charms sketch from The Ed Sullivan Show." Is the puppet in the picture a kind of Snerf? -- Danny
(talk) 02:27, 5 January 2009 (UTC)
Yes, but it's a big one. The puppet has "feet" with which two hands can be used to perform them, and the head and body are supported by a rod. -- MuppetDude 15:41, 5 January 2009 (UTC)

Do we know that that creature is called a Snerf? Or is it another puppet that has some Snerf-like qualities? I hesitate to use terms like "one-hand Snerf" and "two-hand Snerf" if that's just a fan name. -- Danny (talk) 19:09, 5 January 2009 (UTC)

It's a puppet that is performed in similar ways to a Snerf, and its design appears to have been influenced by them. Here's a video of the puppet in action, but in this case only one hand is used (as the other one is operating Beautiful Day Monster). In the Ed Sullivan sketch, two hands are used to operate both feet. -- MuppetDude 19:20, 5 January 2009 (UTC)
Alternate look
According to various sources the snerfs also had round noses instead of the trumpet ones. can anyone tell me about that.--Fuzzyface32 1:28, 28 September 2007 (UTC)
Nothing to tell really, but see here for an image. -- Andrew Leal (talk) 01:29, 29 September 2007 (UTC)
Name
Where does the name "Snerf" come from? I'm wondering if it's a case of a name mistook for a species again. I'm watching The Great Santa Claus Switch and Cosmo calls one of them "Snerf" by name. Is there another source for this Muppet-type being named "Snerfs"? -- Scott (talk) 21:04, 4 June 2006 (UTC)
In The Muppet Show Episode 113: Bruce Forsyth Kermit introduces them saying, "Let's kick things off with a new musical group we call the Snerfs. The Snerfs?". The Muppet Morsels say that "The Snerfs were first designed in 1965... The original Snerfs' feet were made from a furry glove which the puppeteer would wear." -- Brad D. (talk) 21:20, 4 June 2006 (UTC)
Origin
Does anybody know what exact production the Snerfs first appeared in was?--Minor muppetz 23:08, 17 April 2006 (UTC)
They must appeared before 1966 if they were going to make toys of them then. -- Big V 15:31, 18 April 2006 (UTC)
Ad blocker interference detected!
Wikia is a free-to-use site that makes money from advertising. We have a modified experience for viewers using ad blockers

Wikia is not accessible if you've made further modifications. Remove the custom ad blocker rule(s) and the page will load as expected.