ATTENTION
TALK PAGES ARE NO LONGER USED
To discuss article changes, please use:
If you see comments on this page, they remain for archive purposes.
NEWLY ADDED COMMENTS WILL BE REMOVED
Title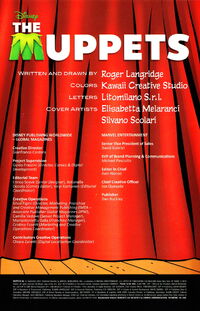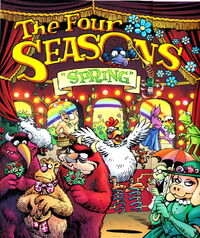 Based on the cover and the title page, this series is called "The Muppets: The Four Seasons", rather than "The Muppet Show Comic Book". The indicia just says "MUPPETS No. 1, September 2012."
Obviously, we know that this is a continuation of The Muppet Show Comic Book, but is there any interest in changing the article title to "The Muppets: The Four Seasons"? -- Danny
(talk) 01:07, July 8, 2012 (UTC)
Ugh. Marvel. I hate to deviate from the printed source, but it would irk me more to break the uniformity here. Clearly, these are all part of the same series of comics. This is the last one Marvel tagged onto the already-released run (even re-numbering them), I think it would be best to keep them under the same banner. Maybe I'm wrong, but this is a marketing thing. Creatively, this product part of The Muppet Show Comic Book series. That's how I feel, anyway. —Scott (message me) 01:55, July 9, 2012 (UTC)
Ad blocker interference detected!
Wikia is a free-to-use site that makes money from advertising. We have a modified experience for viewers using ad blockers

Wikia is not accessible if you've made further modifications. Remove the custom ad blocker rule(s) and the page will load as expected.