ATTENTION
TALK PAGES ARE NO LONGER USED
To discuss article changes, please use:
If you see comments on this page, they remain for archive purposes.
NEWLY ADDED COMMENTS WILL BE REMOVED
Hippocritic or Hypocritic?
Is there an official spelling on this character as seen in a script? It's a play on the Hippocratic Oath, so they may have spelled it that way. Or to make it sound more like hypocrite, the 2nd way.
Also, was this character/puppet used in any other productions? -- Scott Scarecroe 17:35, 12 February 2006 (UTC)
The same puppet was the king who became a hat sharpener in the "Monster Telethon" episode of JHH.
GrantHarding 19:15, 12 February 2006 (UTC)

Thanks for the puppet info, Grant! I uploaded the image. As for spelling, I recently rewatched the episode (and was able to add edit and cast info accordingly), and from the emphasis, I'd guess Hypocritic is more likely. We might make the other as a redirect until such time as we get direct confirmation from anyone. Also, Scott, are you sure his lines weren't looped by Kevin Clash? I did notice his scene ended and then Leon appeared, but it sounded like Clash throughout, as opposed to Beautiful Day Monster, whose first speech is certainly Clash, but whose next brief re-assurances to the father, Mr. Ud (sic?), whose puppet origins I also wonder about, sound like Dave Goelz. --Andrew, Aleal 09:52, 13 February 2006 (UTC)
I noticed in the scene with Beautiful Day Monster, a Dave Goelz character is heard talking off-screen, but since he doesn't appear on-screen, then how do we know that voice was supposed to be Beautiful Day Monster? It could have been anybody. --Minor muppetz 03:52, 11 July 2006 (UTC)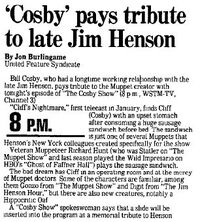 Re-opening the name issue, I finally found the first print reference to the character (in the episode, his nametag is simply "Dr. H. Oaf." The above article from the second network airing, refers to him as the "Hippocritic Oaf." Could the article be wrong? Sure, but right now it's our only print evidence, the rest just being assumptions based on pronunciation and such. So I vote for renaming. -- Andrew Leal (talk) 00:13, 10 April 2007 (UTC)
Ad blocker interference detected!
Wikia is a free-to-use site that makes money from advertising. We have a modified experience for viewers using ad blockers

Wikia is not accessible if you've made further modifications. Remove the custom ad blocker rule(s) and the page will load as expected.