ATTENTION
TALK PAGES ARE NO LONGER USED
To discuss article changes, please use:
If you see comments on this page, they remain for archive purposes.
NEWLY ADDED COMMENTS WILL BE REMOVED
Air Dates?
Does anyone know when this aired apart from the debut? Wozza 00:14, December 25, 2009 (UTC)
Sinister
"

The concept for this show as of 1967 used the title The Sinister Santa Claus Switch.

"
The citation tag has been here a while, but we haven't actually opened up a discussion about it. What's the source on the title during development? —
Scott
(
talk
) 03:23, 15 November 2007 (UTC)
Actually, Scott, *you* added that. I'd brought it up on your talk page awhile back, and you said you'd look into your sources. -- Andrew Leal (talk) 05:36, 15 November 2007 (UTC)
Snickery?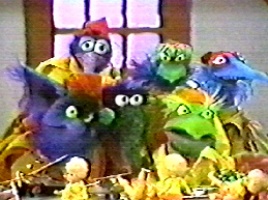 I've read the storyline of The Great Santa Claus Switch. In the frackle's song, it mentions the name "Snickery". Some of the images also shows a frackle that's presumably him. Has he appeared on The Muppet Show, or anywhere else? --Dark Frackle 02:29, 12 March 2006 (UTC)
I'm not sure which one you're thinking of, so I'm putting the picture here, with the characters' names.
Top row, left to right: Gonzo (obviously), Snerf, Blue Scoff
Bottom row, left to right: Blue Frackle, Droop, Green Frackle
I hope that helps... -- Danny Toughpigs 02:36, 12 March 2006 (UTC)
That might as well mean that Snickery and Snerf are the same. I've seen the pic before, and I thought that Snerf would be Snickery. Thanks for that pic, BTW.--Dark Frackle 23:00, 17 March 2006 (UTC)
You mean Snarl not Gonzo in the top left, correct? -- BradFraggle 23:46, 17 March 2006 (UTC)
Well, yeah. The Frackle Who Would Come To Be Known As Gonzo. -- Danny Toughpigs 23:57, 17 March 2006 (UTC)
Ad blocker interference detected!
Wikia is a free-to-use site that makes money from advertising. We have a modified experience for viewers using ad blockers

Wikia is not accessible if you've made further modifications. Remove the custom ad blocker rule(s) and the page will load as expected.