Talk:The Flip Wilson Show
26,681pages on
this wiki
DVD Availability
I know we can't have online links to Amazon, but can we mention which of these are on DVD? I know the first episode is out, but I couldn't tell about the other ones. Does anybody have the DVD sets? -- Ken (talk) 04:09, 24 July 2008 (UTC)
Oscar in episode 1
I thought I had read that Oscar the Grouch appeared in the first episode, in a sketch that was cut from syndication. I never knew about his appearance in epsiode 5 before. Could I be mistaking what I thought I read for a different episode? Of course, I recall the ending credits for the first episode reading "Caroll Spinney as Big Bird and Oscar the Grouch". --Minor muppetz 22:33, 13 August 2006 (UTC)
I'm just filling in stuff that the official guide (TV Land's guide to the show) provides. The images I posted are definitely from episode #5, since Loretta Long is credited only for that episode, and I took all screengrabs from one and the same. ---- Julian (talk) 22:53, 13 August 2006 (UTC)
Jet also thinks that Oscar appeared in the pilot. -- Zanimum 18:42, 10 December 2008 (UTC)
I was just searching through the Google news archives, and found an article from the New York Times published a day after the first episode of the show aired, which happened to be a recap of the episode. I don't have a premium account for browsing news archives, but this is what I found from the sample of the article and the result from the search page:
Flip Wilson scored last night as the television season's first new hit in variety. The impish comedian not only registered with his own resourcefulness but also was blessed with good material and singular support by David Frost and two of the favorite "Sesame Street" muppets. The show appeared on the National Broadcasting Company network...
Oscar, the grouch on "Sesame Street " teamed up with Mr. Wilson in an ode to rubbish, and Big Bird introduced the comedian to the gyrations of the alphabet...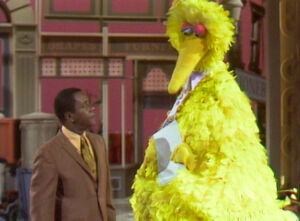 You can see in that picture the same trashcan and crate setting seen in episode 5, and both characters were credited at the end of the episode. So the scene maybe was cut from the TV Land broadcast. MasterYoshi 15:36, April 16, 2010 (UTC)
Jim's Red Book — 8/7-11/1972
This Jim's Red Book entry is a little vague—is it all about one episode, or several? Do we know Muppets only appeared on four episodes? And if it's just one episode, is there anyway to find out what the actual airdate was? -- Ozzel 02:03, August 17, 2011 (UTC)
...and then I just saw that other link I posted, which reveals that the episode aired on 8/14/72. -- Ozzel 02:06, August 17, 2011 (UTC)