ATTENTION
TALK PAGES ARE NO LONGER USED
To discuss article changes, please use:
If you see comments on this page, they remain for archive purposes.
NEWLY ADDED COMMENTS WILL BE REMOVED
George Harrison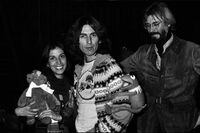 Found this picture of George Harrison and a Fisher Price Kermit Doll. Would this be something we could use in the article? I know its pushing it, but given the nature of the Beatles, I thought we might be able to use it. -- Nate (talk) 00:16, December 4, 2009 (UTC)
That's a great find! As a reason to create an actual article on Harrison, it would be pushing it, but here it would be just fine. Be nice if we could find out more about it (when, context) but even without that it's great. -- Andrew Leal (talk) 00:19, December 4, 2009 (UTC)
According to Getty Images, it was taken at the Saturday Night Live studios on November 19, 1976.. -- Nate (talk) 00:28, December 4, 2009 (UTC)
I presume it was clip reels both times, but he is credited as appearing in the 15th anniversary (1989) and 25th anniversary (1999) specials (the latter winning Emmys). -- Zanimum 17:06, December 4, 2009 (UTC)
I just added the second picture above (unfortunately watermarked), which shows that it was Michael Frith's hand holding the Kermit puppet. I was able to ask him about the pictures last year, and he said that it was from the SNL days. — Joe (talk) 18:50, December 4, 2009 (UTC)
Solidfoamsoul just added a watermark-free version of the second picture. If nobody minds, I'm going to put it here in place of the previous image. -- Jon (talk) 01:28, February 25, 2010 (UTC)
Muppet Covers
We have this listing of Muppet Covers here. It would be nice if they had sources, such as the production(s) they were performed in (i.e. which episodes and whatnot). -- BradFraggle 23:16, 1 March 2006 (UTC)
Those should be listed with the song article when you click on it. Would it be redundant to list them here as well? --Radionate 00:40, 2 March 2006 (UTC)
It would be nice to see when/where the covers were done here. Plus only two of the songs have their own song articles right now. -- BradFraggle 01:36, 2 March 2006 (UTC)
Act Naturally in the songs list?
Should there be a reference to 'Act Naturally' on this page?  It wasn't a Beatles original, but is more often associated with them in the pop world than with Buck Owens.
Ad blocker interference detected!
Wikia is a free-to-use site that makes money from advertising. We have a modified experience for viewers using ad blockers

Wikia is not accessible if you've made further modifications. Remove the custom ad blocker rule(s) and the page will load as expected.