ATTENTION
TALK PAGES ARE NO LONGER USED
To discuss article changes, please use:
If you see comments on this page, they remain for archive purposes.
NEWLY ADDED COMMENTS WILL BE REMOVED
Credits
I've just added a list of puppeteer credits which I think is correct. - I checked out Mike Quinn's credits off of his website (well actually I emailed him via his website to get that confirmed).
My Mopatop's Shop source gave me the info on the Opening Titles puppeteers.
I'm not sure about Yves's girlfriend Yvette, the details of which I got from that MC thread.
I've tried to do a section on the production credits too, but there are some distinct gaps, if anyone can fill them in. Emma 20:37, 26 September 2006 (UTC)
Cameraman character
Can anyone check what this charatcer is DEFINITELY called. In the WIKI he seems to be down as Dunnard the cameraman hog. But there is an MC thread which seems to suggest that he was called Dullard, and that he was an Aardvark. A recycling of the Arlene the Aardvark puppet from Season 1. Cna anyone untangle this, please 21:31, 19 September 2006 (UTC)
It's Dullard the Aardvark. The puppet used for Arlene the Aardvark was used for him, with no changes to the puppet's design. -- MuppetDude 13:59, 20 September 2006 (UTC)
show name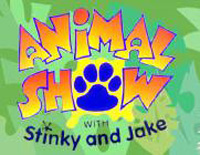 It just occured to me that there's no The in the title of this show. The title card describes it as Jim Henson's Animal Show with Stinky and Jake. Any objections to changing this artcle name to Animal Show? 14:23, 23 May 2006 (UTC)
The theme song and TV Guide listings used a "the," though. Up to you, of course. Andrew Leal (talk) 14:30, 23 May 2006 (UTC)

Technically, the title should be "Jim Henson's Animal Show". I'd prefer leaving it the way it is, though. -- Danny (talk) 14:37, 23 May 2006 (UTC)

I got the recent The Song of the Cloud Forest and Other Earth Stories DVD, and on the packaging always refers to Animal SHow with Stinky and Jake,, without the "the". It's listed like that in the show summary, copyright credits, and where the show title is listed. --Minor muppetz 14:43, April 16, 2010 (UTC)

Henson.com also lists the show simply as "Animal Show" (with no "the"). Their logo even drops the "Jim Henson's" but no "The" was added (unlike The Secret Life of Toys and The Ghost of Faffner Hall where "the" was added). -- Brad D. (talk) 15:21, April 16, 2010 (UTC)
Ad blocker interference detected!
Wikia is a free-to-use site that makes money from advertising. We have a modified experience for viewers using ad blockers

Wikia is not accessible if you've made further modifications. Remove the custom ad blocker rule(s) and the page will load as expected.