ATTENTION
TALK PAGES ARE NO LONGER USED
To discuss article changes, please use:
If you see comments on this page, they remain for archive purposes.
NEWLY ADDED COMMENTS WILL BE REMOVED
Stinger list
Could someone make a list of stingers these two do at the end of the credits on a separate page?
Humph! Then, can't we add a Quotes page for them instead? It should be okay!
Another Reversed Appearance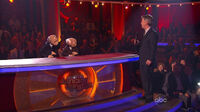 Statler and Waldorf were on opposite sides than usual in the recent appearance on Dancing with the Stars. I haven't found any images form that appearance yet, so I thought I'd note it here. --Minor muppetz 15:57, November 16, 2011 (UTC)
Casting
I took out some "additional performers" on the grounds that holding a puppet up in a group shot doesn't count as that performer having been "cast" as that character. If that were the case, we ought to list John Landis as an additional performer for Grover. —Scott (message me) 03:51, November 13, 2011 (UTC)
first name
Do these guys have first names? -- Joe (talk) 11:50, 22 May 2009 (UTC)
QE2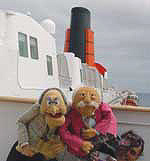 Found this on my hard drive. Anyone know when they were on the QE2? —Scott (talk) 05:39, 15 April 2009 (UTC)
Age ?
How old are Statler and Waldorf ?
Quotes
I've just noticed that S&W's quotes are gone.I searched around and relized that ALL quote pages are gone! -- User:Fireball93 17:58, July 9, 2006
Why was the category From the Balcony Characters removed? They're in every episode! --Trogga 14:30, 1 July 2006 (UTC)
Left & Right
I was looking at Statler and Waldorf Through the Years and Statler and Waldorf's Alternate Identities and Ages and re-noticed that in all of those pictures Statler is on the right and Waldorf is on the left. Are there any cases where it was the other way? The article here says Waldorf was always on the left and Statler always on the right. "Always" is such a strong term and I was wondering if there were cases where they were flipped. -- BradFraggle 05:29, 27 March 2006 (UTC)
Hairstyles for Statler & Waldorf
Is it too trivial to mention that the hair has changed for Statler & Waldorf since their Muppet Show days? If you look at the first season Muppet Show DVD, Waldorf's hair is more "messed up" & "shaggy," as opposed to his more combed "From the Balcony" look (it might not even be hair at all but hair-looking foam?). -Sbartok 02:38, 9 Jan 2006 (UTC)-