ATTENTION
TALK PAGES ARE NO LONGER USED
To discuss article changes, please use:
If you see comments on this page, they remain for archive purposes.
NEWLY ADDED COMMENTS WILL BE REMOVED
another Trek spoof
Help, We're Stuck!
The issue in question is unresolved. Can you help?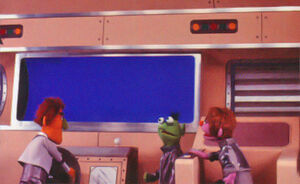 Spaceship Surprise is well documented and viewable on various video sharing sites, but I recall a time when we thought these sketches were called Starship Surprise. It turns out there may be another sketch with that name. The 40 years book has this picture with the following caption: "The blue screen is filled in with a view of the ship's surroundings when the Star Trek spoof, 'Starship Surprise,' airs in season 15." Does this ring any bells for anyone? The characters and set shown here don't appear in any of the known Spaceship Surprise sketches. —Scott (talk) 03:14, October 27, 2009 (UTC)
At least on the Wiki, that doesn't seem to have been an issue (Starship Surprise was created later as a redirect, there's no history) but it's possible there were memories about it on the forum. Definitely the season specification and image suggest there was an additional sketch which may or may not have anything to do with the later series beyond name similarity (perhaps more to do with the emotion, surprise, than with letter sounds). Neat find regardless. In the past I would have doubted we'd find anything else about this, but Sesame Workshop has been digging up all sorts of things for their online videos, so who knows (especially now that we know to keep an eye out)? -- Andrew Leal (talk) 03:04, October 28, 2009 (UTC)
Ad blocker interference detected!
Wikia is a free-to-use site that makes money from advertising. We have a modified experience for viewers using ad blockers

Wikia is not accessible if you've made further modifications. Remove the custom ad blocker rule(s) and the page will load as expected.