ATTENTION
TALK PAGES ARE NO LONGER USED
To discuss article changes, please use:
If you see comments on this page, they remain for archive purposes.
NEWLY ADDED COMMENTS WILL BE REMOVED
Season 41?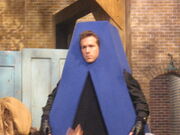 Do I have clearance to start a page about season 41? it won't be too in depth, but I do know some things: Abby's Flying Fairy School and the Word of the Day are being dropped (The Robinson Family Blog said that one), one of the themes is bathing, and one of the guest stars is Ryan Reynolds as Letter A.(I have a photo to prove it) -- Wes 22:08, March 10, 2010
First season since 30 to span two years
Is it worth mentioning (most likely not, but just to be sure) that this is probably the first season to span two years since season 30? ---- Jesse (talk) 00:26, October 28, 2009 (UTC)
Mad Men
Would it be safe to presume the Mad Men parody Sesame Workshop mentioned at the TV critics event must be season 40? -- Zanimum 19:19, 8 August 2009 (UTC)
Article title
Since Sesame Street switched to the smaller seasons it's been taking PBS about 3-4 months to air all the episodes of a given season. So since this season is said to be starting in much later in the year (in November) rather than January, February, March, April or August (as we've seen before), it is very much possible that there will still be new episodes left to debut in January or February 2010. If that is the case, then we may end up having to change this article title to Season 40 (2009-2010). Now there is a chance that they could air all 26 episodes before New Years, so it may not be an issue; but it is a move that may need to be made down the road once more information is available. -- Brad D. (talk) 21:51, 25 March 2009 (UTC)
Miles
I don't see Miles in the picture. Is that all of the grown-up cast members or just most? Webkinz Mania 15:26, 22 February 2009 (UTC)
Ad blocker interference detected!
Wikia is a free-to-use site that makes money from advertising. We have a modified experience for viewers using ad blockers

Wikia is not accessible if you've made further modifications. Remove the custom ad blocker rule(s) and the page will load as expected.