ATTENTION
TALK PAGES ARE NO LONGER USED
To discuss article changes, please use:
If you see comments on this page, they remain for archive purposes.
NEWLY ADDED COMMENTS WILL BE REMOVED
Episode 0536
Mind you, SAM has only one line in that episode ("Hi, Luis"), but his voice sounds rather different from when he first greeted Susan and Gordon, and not at all like that of Jerry Nelson to me. I also brought this up on the page for that particular episode. Anyone? http://www.youtube.com/watch?v=Zae_qR2ZZJ4 Garrettk41 01:07, January 8, 2010 (UTC)
Spiderman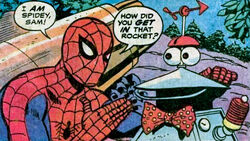 An anon contributor added this sentence: "Sam also appeared in Spidey Super Stories #31, a Star Wars parody, where he took R2D2's role and met Spiderman."
Is that true? What's Spidey Super Stories? -- Danny (talk) 18:05, 3 January 2007 (UTC)
It seems to be true, a quck google search came up with this result http://community.livejournal.com/scans_daily/2697880.html Henrik 18:15, 3 January 2007 (UTC)
Henrik beat me to it. I just uploaded the above scan as proof. Spidey Super-Stories was a rather oddball comic, spawned from Spidey's appearances on The Electric Company. So it was intended for younger readers, and melded the Spider-Man cast and rogue's gallery with Electric Company folks (Easy Reader, Rita Moreno's director, etc.) This issue, from February 1978, appears to be the only guest appearance by a Sesame Street characetr (Sam's billed as "Sam the Sesame Street Robot.") A snarky synopsis of the issue can be found here. Definitely neat fuel for an eventual Marvel Comics page. -- 18:22, 3 January 2007 (UTC)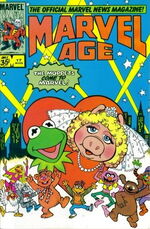 I already covered it on Marvel Comics, but a solo page sounds cool. Either magazines, or we could do a comic book appearances. With Big Boy, and if we decide to give it a seperate page (I'm unsure), this issue of Marvel Age, prior to the Muppets Take Manhattan comic book adaptation (more of a magazine/newsletter of coming stuff than an actual comic, though it was sold as one). -- Andrew Leal (talk) 02:56, 4 January 2007 (UTC)
Sam or SAM?
In his introduction in Episode 0406, Sam says: "I am the Super Automatic Machine. You may call me by my initials: S-A-M. SAM." Should this article title be changed to SAM the Robot? -- Danny (talk) 12:53, 30 July 2006 (UTC)
Cecil the List says: "listed as "Sam the Robot" in Sesame Street Magazine and The Sesame Street Dictionary, also listed as "Sam the Machine" in TV Guide". -- Danny (talk) 02:43, 4 January 2007 (UTC)
Another source: Oscar-the-Grouch's Alphabet of Trash says "Sam the Robot". -- Danny (talk) 14:36, 22 August 2007 (UTC)