ATTENTION
TALK PAGES ARE NO LONGER USED
To discuss article changes, please use:
If you see comments on this page, they remain for archive purposes.
NEWLY ADDED COMMENTS WILL BE REMOVED
UK Fraggles on Royal Variety Show
I remember reading somewhere that the Captain (Fulton McKay), Sprocket, Travelling Matt and some Fraggles appeared on the UK Royal Vaiety Performance - Does anyone know the year? Warrick 19:15, 31 May 2009 (UTC)
EDITThis is definetly not the date, I've since checkedThey appeared on the Childrens Royal Variety Show Sunday March 6th 1983 and aired on ITV Saturday, Apr 16, 1983 at 6.45pm. Warrick
1977 ?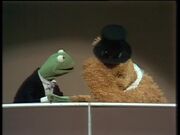 Is this from the appereance in 1977 ? I found it here
Itvmedia
.
Rytter
14:57, 31 October 2006 (UTC)
Hey, Im not sure when that is form. But what was the program that the screen grab came from? I know that sometime in the 90's Kermit sang 'Its not Easy Being Green' on the show too. Warrick 21:12, 4 November 2006 (UTC)

I guess it's from The Best Of Royal Variety shown on ITV3, since thats the show that is described on the page I've found it on. I just noticed this on the page "Other stars who give a unique insight into the greatest entertainment show on earth include Sir Cliff Richard, Liza Minelli, The Muppets, Ronnie Corbett, Jimmy Tarbuck, Jackie Mason, Charlotte Church, Brian Conley, Sharon Osbourne, Lionel Blair, Myleene Klass and Joe Pasquale."
Apparently the Muppets talked about the show as well.Rytter 22:55, 4 November 2006 (UTC)
It says its on on "wednesays" so i'll try and catch it - Warrick 17:03, 5 November 2006 (UTC)