ATTENTION
TALK PAGES ARE NO LONGER USED
To discuss article changes, please use:
If you see comments on this page, they remain for archive purposes.
NEWLY ADDED COMMENTS WILL BE REMOVED
More Characters
I've thought of some other Pumpkin colored characters I think we should consider creating articles for. It's just my own opinion, and you may not agree, but let me know what you think. I recommend articles for: Victor, Noel Cowherd, and Forgetful Jones' teacher, whatever his name was. And of course we want a picture of Firefighter Jackson as well. Plus, although we don't need a specific article on him, we might consider putting a picture of Old King Cole's Royal Bass Player on the Pumpkin page. Anyway, those are my thoughts for now. Garrettk41 18:00, 13 April 2008 (UTC)
There's also Big Barney and the mate of "Spaceship Surprise". I know it's a lot of ideas and you folks may not agree on all counts. They are just ideas. So let me know what you think. Garrettk41 05:01, 3 May 2008 (UTC)
Info Parking
Parking these entries here for now, pending images, or more concrete descriptions:
And two very vague background figures; if anyone happens to have pics of these guys lying around, feel free to add them in.
Name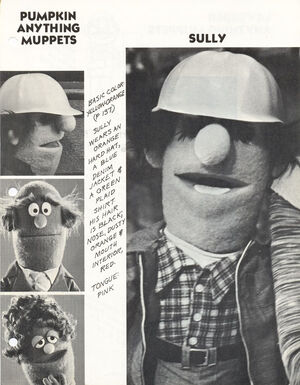 The CTW character style guide from 1979 refers to this color officially as "pumpkin." I nominate this article be moved to reflect the wording so that it may adhere to its source. -- Scott Scarecroe 02:18, 21 February 2006 (UTC)
Ad blocker interference detected!
Wikia is a free-to-use site that makes money from advertising. We have a modified experience for viewers using ad blockers

Wikia is not accessible if you've made further modifications. Remove the custom ad blocker rule(s) and the page will load as expected.